Waste-Cotton Taschen von Misterbags
We love Zero Waste! There are many ways to protect the environment. One of them is the use of bags made from recycled cotton and rPET. That's why we at Mister Bags have expanded our range of recycled materials with new bag models and colors. The special feature of Fred, our newcomer, it is made of 70% recycled cotton scraps and 30% recycled plastic (rPET). This innovative mix of materials conserves natural resources and thus the environment. With our recycled models you make a strong statement: Zero Waste.
Product Size:
approx. 38 x 42 x 10 cm

Product Size:
ca. 40 x 40 x 15 cm

Product Size:
approx. 38 x 42 cm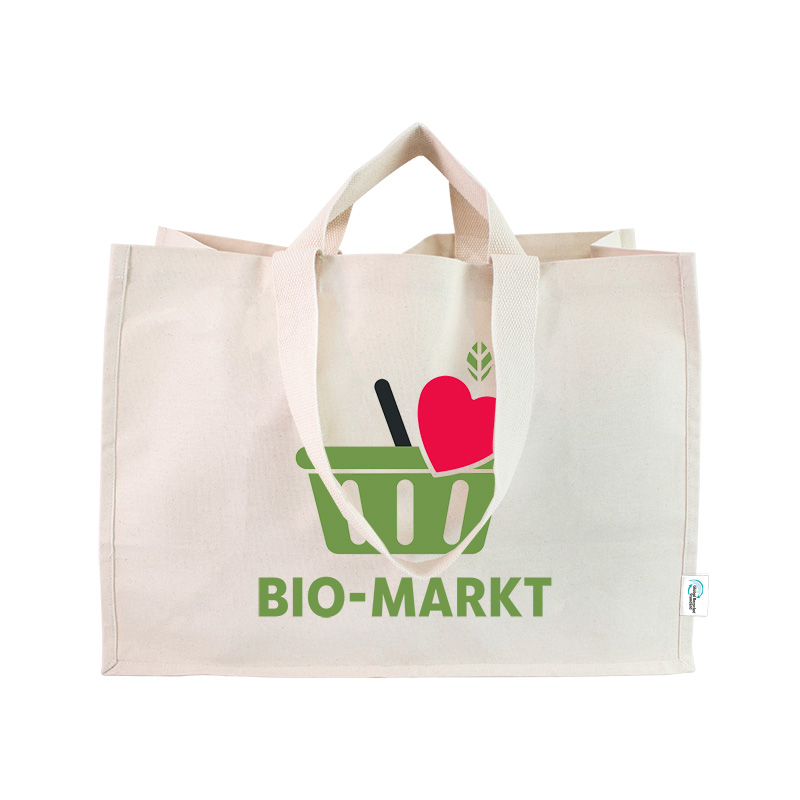 Product Size:
ca. 50 x 36 x 23 cm

Product Size:
ca. 23,5 | 20 x 20 |  6,5 cm

Product Size:
approx. 38 x 42 cm


Subscribe to our newsletter and find out what's new on a regular basis.
Mister Bags - sustainable bags from waste cotton for a better environment!
Mister Bags' range of sustainable promotional bags has recently been enriched with the addition of the Waste Cotton collection. The star of the collection is the sustainable Zero Waste material - Waste Cotton, which consists of recycled cotton scraps and rPET. The processing of the cuttings saves a lot of waste and thus sustainably relieves the environment. Overall, the new Waste Cotton collection from Mister Bags contributes to a green, ecological footprint and supports environmental protection.
Waste cotton promotional bags for a better environment
Mister Bags promotional waste cotton bags are unique, eco-friendly bags made from recycled materials and support the Zero Waste lifestyle. Our Zero Waste collection convinces with many advantages, e.g. their robustness, stability and high wearing comfort. They are ideal for the everyday office visit, but also for the weekly shopping. They are always an eye-catcher with your individual advertising message. When it comes to the color of our products, you can choose a simple elegant natural tone or, for example, our model Fred also in bright red or maritime blue.
What's inside the Waste Cotton collection from Mister Bags?
The main ingredient of our Waste-Cotton sustainable promotional bags is 70% recycled cotton and 30% rPET. Our Waste-Cotton bag models meet all the criteria of the Global Recycling Standard, or GRS for short.
The Waste-Cotton promotional bags from Mister Bags sustainably protect the environment, because among other things, cotton waste such as cuttings, also PET are recycled and reused, which normally end up in the trash. We give them a second life and process them into high-quality new promotional bags.
Our Waste Cotton bag models are just the right choice for your environmentally conscious customers who place the highest value on sustainability and zero waste.
Natural product bag: why is it important that we recycle more?
At Mister Bags, we care deeply about recycling because it protects the environment and sustainably conserves our resources. When trash gets into the ground or into the air, it affects the natural balance of the earth and causes damage that is difficult to repair. Recycling, on the other hand, is a sustainable solution to use resources in the long term and protect our environment.
The industrial textile industry is responsible for a large part of environmental pollution. Here we clearly stand against it! We attach great importance to conserving resources and working in an environmentally friendly way in our sustainable advertising materials and also in our daily activities. It is our concern to reuse inorganic materials, which would otherwise be burned and thus get back into the environment through the air. Our goal is to avoid waste and to produce new, sustainable and climate-friendly advertising materials.
Sustainable bag with print: Mister Bags makes it possible
All bags in our Waste-Cotton collection can be custom printed to carry your promotional message and be in use every day by your customers, business partners or employees. Mister Bags Waste-Cotton promotional bags are the ideal, eco-friendly and sustainable choice for your climate-conscious target group.
Our Waste Cotton bags are sustainable, eco-friendly and made from the renewable resource of cotton, making them a perfect choice for those who need a bag with printing to showcase your logo or brand in an eco-friendly way.
Both as a robust office companion like our Bruno, as a practical shopping bag like our Fred or ecological cosmetic bag like our beautiful Bella: all our Waste-Cotton bag models can be sustainably finished with various printing options - and best of all: they are all printed with love in Germany in our own on-site print shop.