Art. Nr.: 2340
Harry
Harry is our - and perhaps soon your - royal standard companion.
High quality organic cotton bags like these make any plastic or paper shoulder bag look old. Our noble Harry stands for sustainability and in combination with a logo, you too can carry this statement into the world.
Harry is GOTS and Fairtrade certified and thus ensures better working and living conditions. In addition, our Royal Bag is guaranteed to have no additives apart from the cotton and is also particularly distinguished by its durability.
This is ensured by the tear-resistant fabric together with the high-quality processed overlock & chain stitching. A logo or design is applied using screen printing or transfer printing and is therefore similarly durable. The advertising message is printed on a 38 x 42 cm large area on the sustainable carrier bag in natural look.
To be as versatile as possible, the printable organic cotton bag features Harry With a length of 70 cm, it has particularly long handles. It can be carried comfortably in the hand but also casually over the shoulder.
With its low grammage of 140 g/m², you can hardly feel the environmentally conscious promotional bag when it is empty: when it is full, however, its stability is immediately noticeable.
This makes our Harry a real crown among stylish organic shoulder bags.
Grammage: 140 g/m²
Size: 38 x 42 cm
Refinement: Screen printing
Print size: approx. 28 x 30 cm
Packing: 250 pcs / carton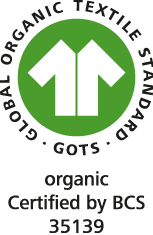 All cotton is Fairtrade certified and grown by Fairtrade producers. Fair trade conditions allow small farmers and workers in the growing countries to invest in a sustainable future. More info at www.info.fairtrade.net
Subscribe to our newsletter and find out what's new on a regular basis.